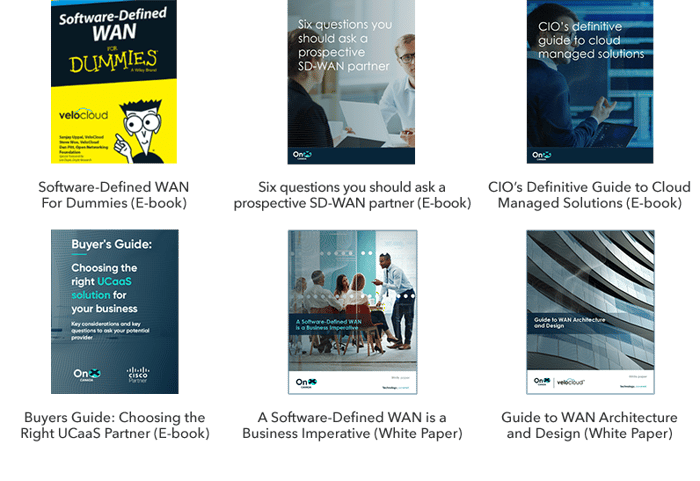 Software-Defined WAN For Dummies (E-book) - SD-WAN Education Tailored For CIOs! CBTS is pleased to announce it's SD-WAN offering, powered by VeloCloud, that provides a consistent, high-quality experience across distributed locations while reducing network costs and management complexity.

Six questions you should ask a prospective SD-WAN partner (E-book) - Almost every business and technology leader today is focused on creating a more agile organization, one with the ability to adapt to rapid changes in the business environment. It is essential to partner with an SD-WAN provider with the experience and expertise to ensure a successful deployment.

CIO's Definitive Guide to Cloud Managed Solutions (E-book) - Learn how six key verticals are moving to the cloud to circumvent business and IT challenges in order to be set up for success against future demands.

Buyers Guide Choosing the Right UCaaS Partner (E-book) - In today's digital world, success depends on your business' ability to adapt in the instant. With the right collaboration tools, you can be one of those agile companies that achieves better performance and results through the teamwork of employees, customers, and partners.

A Software-Defined WAN is a Business Imperative (White Paper) - Businesses have spent an estimated $12 billion on infrastructure used to make the data center more agile. However, one part of IT that has yet to evolve and lacks flexibility is the enterprise wide-area network (WAN). Find out why SD-WAN is at the top of every IT and Business Leader's priority list.

Guide to WAN Architecture and Design (White Paper) - The role of a WAN architecture is to enable an organization to deploy a WAN that can adapt quickly to changing business and technical requirements and to respond appropriately to application demands. Learn what are the must for WAN design.